Surf level
Beginners
If you don't have much surf experience, the beaches south of Ericeira are the place to be. Foz do Lizandro and São Julião are typical beach breaks and perfect for beginners. Praia do Sul can also be good for beginners if the conditions are right. Both the surf spots Foz do Lizandro and Praia do Sul are a 15-minute walk from Ericeira Surf Apartments.
If you have never surfed before or only a couple of times, we recommend booking surf lessons.
Intermediates
Intermediates can find nice waves on the beach breaks mentioned above, but they can also choose for the famous and super consistent reef break of Ribeira d'Ilhas, host of the WSL Challenger series contest. Also Matadouro, just north of town, is a perfect intermediate surf spot.
Experienced surfers
For experienced surfers, Ericeira is the best place to be in Europe. You can choose from more than 15 world-class surf spots in 8 kilometers of coastline, with the amazing waves of Coxos (righthander) and Pedra Branca (lefthander) as highlights.
But don't forget to explore the surroundings of Ericeira as well. If you drive 20 kilometers north, there are the beautiful beaches of Santa Cruz and Praia Azul. The famous surf spots of Peniche are also within easy reach. To the south, you'll find Praia do Magoito, Praia Grande and Praia do Guincho. You can even go further south towards the surf spots along the Lisbon Coast. Carcavelos, São Pedro do Estoril and Costa da Caparica are great places to go when the bigger swells hit the Atlantic coastline.
Swell consistency
Ericeira is the most consistent surf spot of Southern Europe and offers good surf year-round. Like in the rest of Europe, the waves are usually the smallest in the summer months and the biggest in the winter months. But even in the summer, it's rarely flat. On the smaller days, the beaches south of Ericeira are often the place to be. Both Foz do Lizandro and São Julião pick up a lot of swell. When the waves get bigger, the reefs north of town start to show their potential. And on the biggest winter days, the harbour in Ericeira offers nice waves.
Due to the great diversity in surf spots, you are able to surf year-round no matter if you are a beginner or advanced surfer. This is what makes Ericeira so special! Below you can find the swell consistency per month in Ericeira.
---
The best surf spots in more detail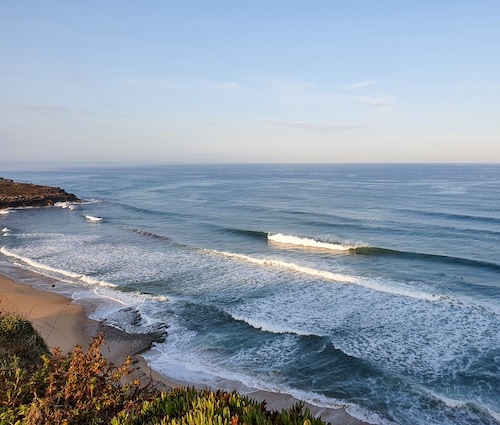 Foz do Lizandro
Foz do Lizandro is our home break and is only 10 minutes walk from the Surf House. On a good day you can get powerful tubes here, but most of the time this break is a forgiving beach break that is perfectly suitable for beginners and intermediates. There are multiple peaks with both lefts and rights, so it's the kind of wave where you'll surely find something that pleases you. It is a very consistent surf spot.
Type: Beach break, Level: All, Distance: 1 km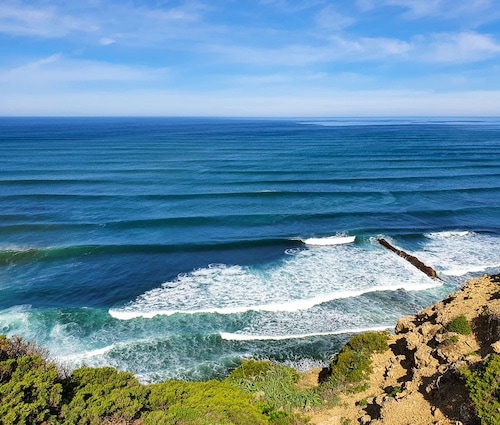 Limipicos
Limipicos is an exposed right reef break that has reliable surf. It can work any time of the year, but the best period is from May to September. The take-off is next to a rocky ledge and the wave breaks over a flat stone reef. To reach this spot, you need to park at Foz do Lizandro and walk or paddle along the coast (towards Ericeira).
Type: Reef break, Level: All, Distance: 1 km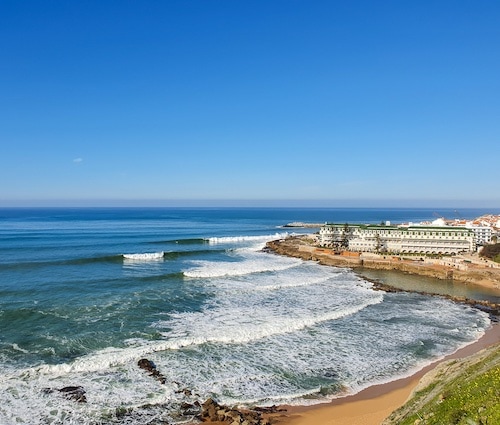 Praia do Sul
The beautiful beach of Praia do Sul is located just south of Ericeira, within walking distance from the house. It only works properly when the swells are a bit bigger. There are multiple breaks for different levels. On the northside of the beach you have a right point/reef break. The point is called Pico do Futuro and is only for experienced surfers. More on the inside you have a break called Furnas which is also accessible for less experienced surfers with smaller conditions. On the southside of the beach there can also break a nice lefthander.
Type: Reef break Level: Intermediate/Advanced, Distance: 1.5 km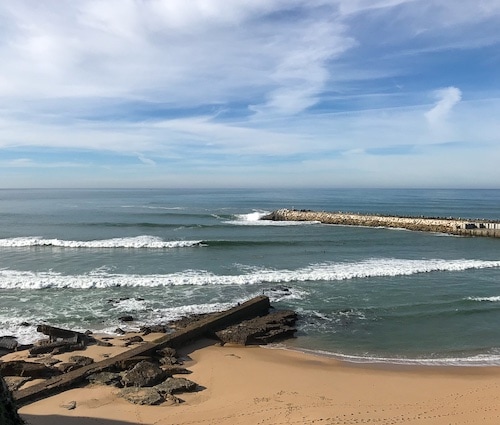 Praia dos Pescadores
Praia dos Pescadores, also known as Fisherman's beach, is a surf spot in the center of Ericeira. It only works with low tide and big swells. In the summer months it's usually flat. Praia dos Pescadores offers an easy wave that can either break to the left or right depending on the sandbanks and swell direction. The left is normally the most consistent. Watch out for the rip current along the pier!
Type: Beach break, Level: All, Distance: 2.5 km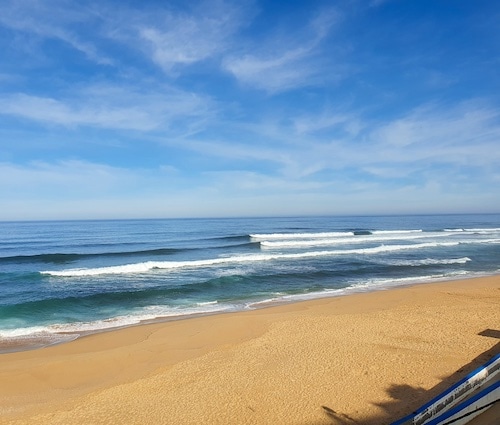 Praia do Norte
Praia do Norte, also called Praia do Algodio, is located just north of the center of Ericeira. There are multiple peaks, mostly breaking over reef. The righthander on the northside of the beach is usually the best. Don't go all the way to the peak, because that is a local wave. More towards the pier, you can also find a left. Praia do Norte works better with bigger swells.
Type: Reef break, Level: Intermediate/Advanced, Distance: 3 km
Matadouro
Matadouro is located just north of Praia do Norte (and Ericeira) in front of the skate park at the Quiksilver Boardriders store. It consists of multiple peaks. There is a nice righthander on the north side of the bay and an a-frame more towards the middle. From the a-frame, the right is normally better than the left. Although the main break is only suitable for intermediate and advanced surfers, beginners can also have lessons on a small reform break on the inside.
Type: Reef break, Level: All, Distance: 4 km
Pedra Branca
Pedra Branca is located at the end of the dirt road in front of the campsite, just north of Matadouro. In the same bay you find two more breaks: Backdoor and Reef. Pedra Branca is a nice fast left, breaking over a flat reef. This wave is characterised by fast take-off, followed by a barrel to the inside. It's considered the best lefthander in the area. Not recommended at low tide!
Type: Reef break, Level: Advanced, Distance: 4 km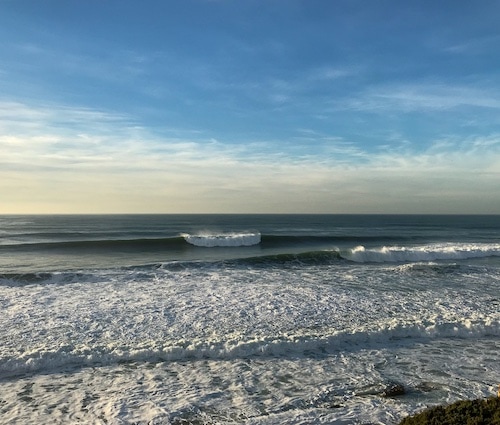 Backdoor
This spot is located between Reef and Pedra Branca. It is a right reef break with sections that can produce nice barrels. Watch out with low tide as it is quite shallow. Good intermediate surfers will enjoy this wave a lot up until a meter, when bigger it's only for the advanced surfers.
Type: Reef break, Level: Intermediate/Advanced, Distance: 4 km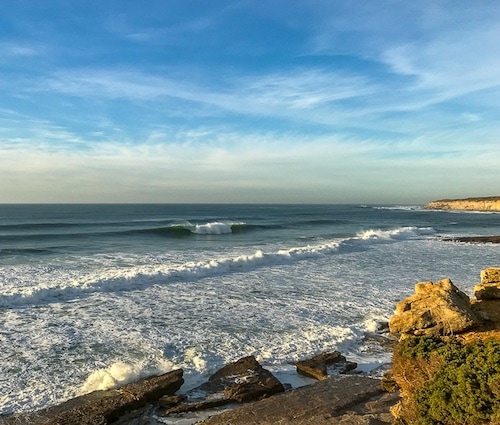 Reef
As the name suggests, this wave breaks over a shallow reef plateau. It produces fast rights with awesome tubes if the conditions are right. The deep water around the reef makes this wave extremely powerful. It can be magical, but can also leave wounds. It's one of the most difficult waves in the area when it gets bigger. For expert surfers only!
Type: Reef break, Level: Advanced, Distance: 4 km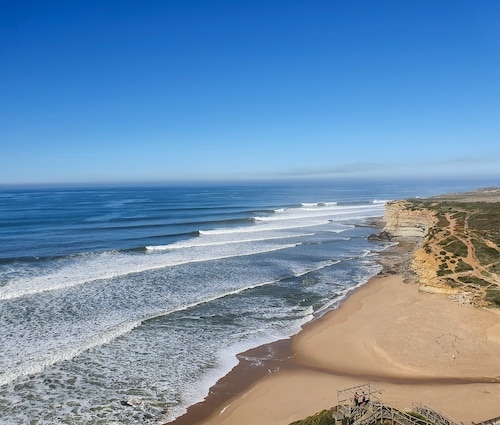 Ribeira d'Ilhas
Ribeira D'Ilhas is a famous and long right reef break that is considered to be one of the best rights in Europe. It is also the break where many contests are held. The wave consists of different sections and is suitable for both advanced and intermediate surfers. On small days, also beginners can have surf lessons here. It's one of the most consistent surf spots in Portugal and always worth to check.
Type: Reef break, Level: All, Distance: 5 km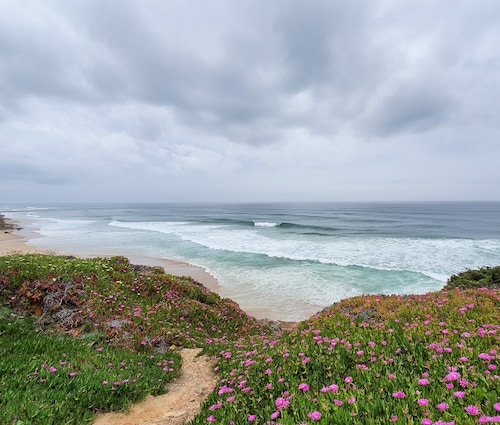 São Julião
Sao Juliao is a big sandy beach that is located south of Ericeira. It is an exposed beach break with multiple peaks, both left and right. It is a swell magnet and therefore very consistent, even in summer. It works with swells in all directions and with all tides. When the sand is aligned properly, it can provide some really good waves for both beginners and more experienced surfers. It's a small wave spot that maxes out easily.
Type: Beach break, Level: All, Distance: 6 km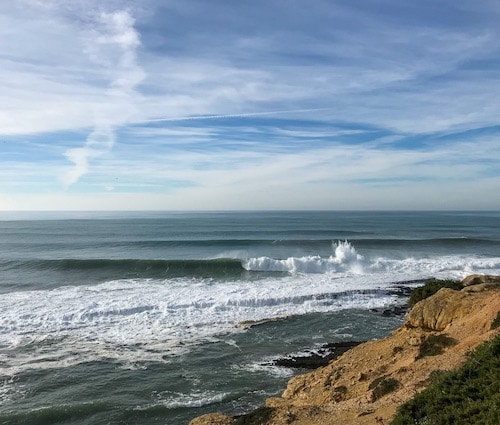 Cave
Cave, also called Sete Bafos, is famous for its hollow spitting barrels. It can be reached via a little dirt road just north of Ribeira d'Ilhas. It's the heaviest wave in Ericeira and one of the most dangerous surf spots in the world. Fun to watch, but not to surf unless you are a professional. As you are basically surfing below reef level, one mistake has serious consequences!
Type: Reef break, Level: Expert, Distance: 7 km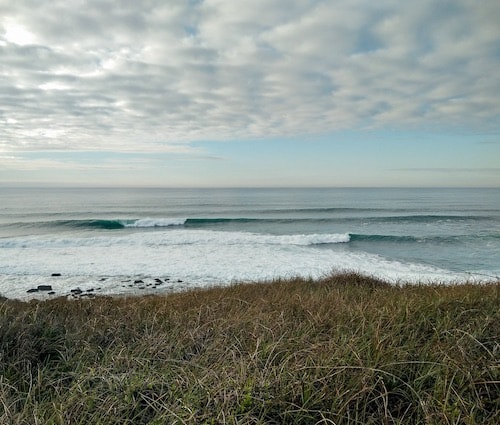 Crazy Left
This surf spot is located on the south side of the Bay of Coxos and is one of the few lefts in Ericeira. It is a fast and hollow wave breaking over a rock bed with good tubes. Because this wave is very exposed to the typical northern wind, it's inconsistent in terms of quality. However, when it works, it's crazy!
Type: Point/reef break, Level: Advanced, Distance: 8 km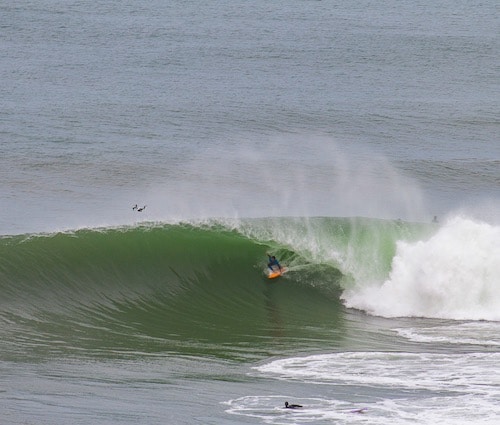 Coxos
Coxos is one of the best waves in Portugal and Europe. This powerful right point/reef break is famous for its amazing barrels and only accessible for experienced surfers. It works best with mid to low tide, but can also be fun with more water. Be aware of the sea urchins and the tricky entry/exit. It can handle very big waves.
Type: Point/reef break, Level: Advanced, Distance: 8 km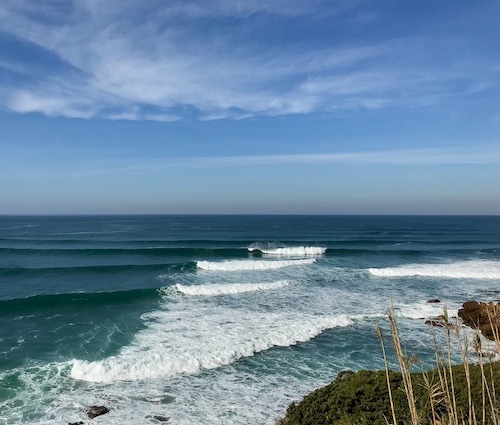 São Lourenço
São Lourenço is the most northern surf spot of the World Surfing Reserve Ericeira. It's a nice sandy beach with multiple peaks. The most consistent one is a powerful right point/reef break with different sections on the right side of the beach. On the inside you find a mellow wave that is also suitable for less experienced surfers and longboarders. This break needs a bit of swell before it starts working properly, but it can hold a big swell.
Type: Point/reef break, Level: Intermediate/Advanced, Distance: 9 km
More than 65 surf spots around Ericeira explained in detail!
If you would like to read more information about all the surf spots in the region of Ericeira (from Lisbon to Peniche), you can check the extensive surf spot guide of our partner Ericeira Surf House. Simply select your surf level, wave direction and bottom type to find the suitable surf spots in the area. Read the surf spot description, check the best tide, watch a video or webcam and check the wave forecast.